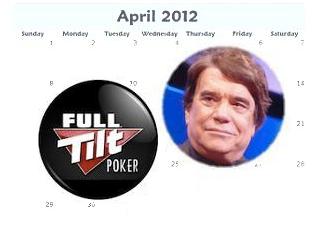 They say that when there's smoke, there's fire, and the poker community is beginning to see more smoke coming from the direction of Full Tilt Poker. This week, a couple pieces of evidence have surfaced that point to the possibility of the re-opening of the once high-flying online poker room in the not-too-distant future.
The first plume of smoke came in the form of a gaming license application by a subsidiary of Full Tilt Poker. On March 23rd, Orinic Limited applied for a Category 2 online gambling license with the Alderney Gaming Control Commission (AGCC). Orinic had previously held a Category 1 license, which does not allow it to actually handle customer funds. Though the Full Tilt subsidiary did have this license suspended by the AGCC last summer, it was never completely revoked, unlike the rest of the companies in the Full Tilt family.
Orinic was able to avoid license revocation because it was essentially young enough at the time the rest of the licenses were revoked that it was not found to be in violation of AGCC regulations as they were. Orinic was incorporated in January 2011 in order to market Full Tilt Poker's services to the Swiss. But at the time of the AGCC hearings regarding Full Tilt's (and related companies') license, Orinic had not actually begun hosting games. Thus, while it was guilty by association to some extent, it had its license suspended for just six monthsand was subject to meeting various conditions if it wanted to resume trading.
Anyone who objects to Orinic receiving a license has through the end of this week to voice those objections to the AGCC.
The other plume is a series of job postings by Pocket Kings Limited on Irish careers website jobs.ie. Pocket Kings handled the marketing and website for Full Tilt Poker and was one of the companies named in the Black Friday indictments. The postings were listed this week and are for customer service representatives and supervisors, the latter of which are "urgently required." Positions are open for representatives who are fluent in a number of languages: Russian, German, Spanish, Portuguese, Italian, Romanian, Dutch, and Hungarian.
The introduction to the job description implies that Pocket Kings may be looking to ramp up slowly as Full Tilt starts to rebuild, but also implies that things are going to happen quickly:
"Pocket Kings is hiring and has an urgent requirement for experienced multilingual Customer Service reps. With an attractive salary, these 2-3 month contract roles may become permanent and offer an exciting opportunity to join a vibrant and energetic company."
In case there may be any sort of doubt that this doesn't actually have anything to do with Full Tilt, the job description does say that Pocket Kings is the "support arm for Full Tilt Poker" and that knowledge of poker is desired.
While Full Tilt Poker has not been officially resurrected yet and we don't want to prop up the hopes of those still waiting to see their missing funds, these do seem to be positive signs that the once powerful poker room might rise again.